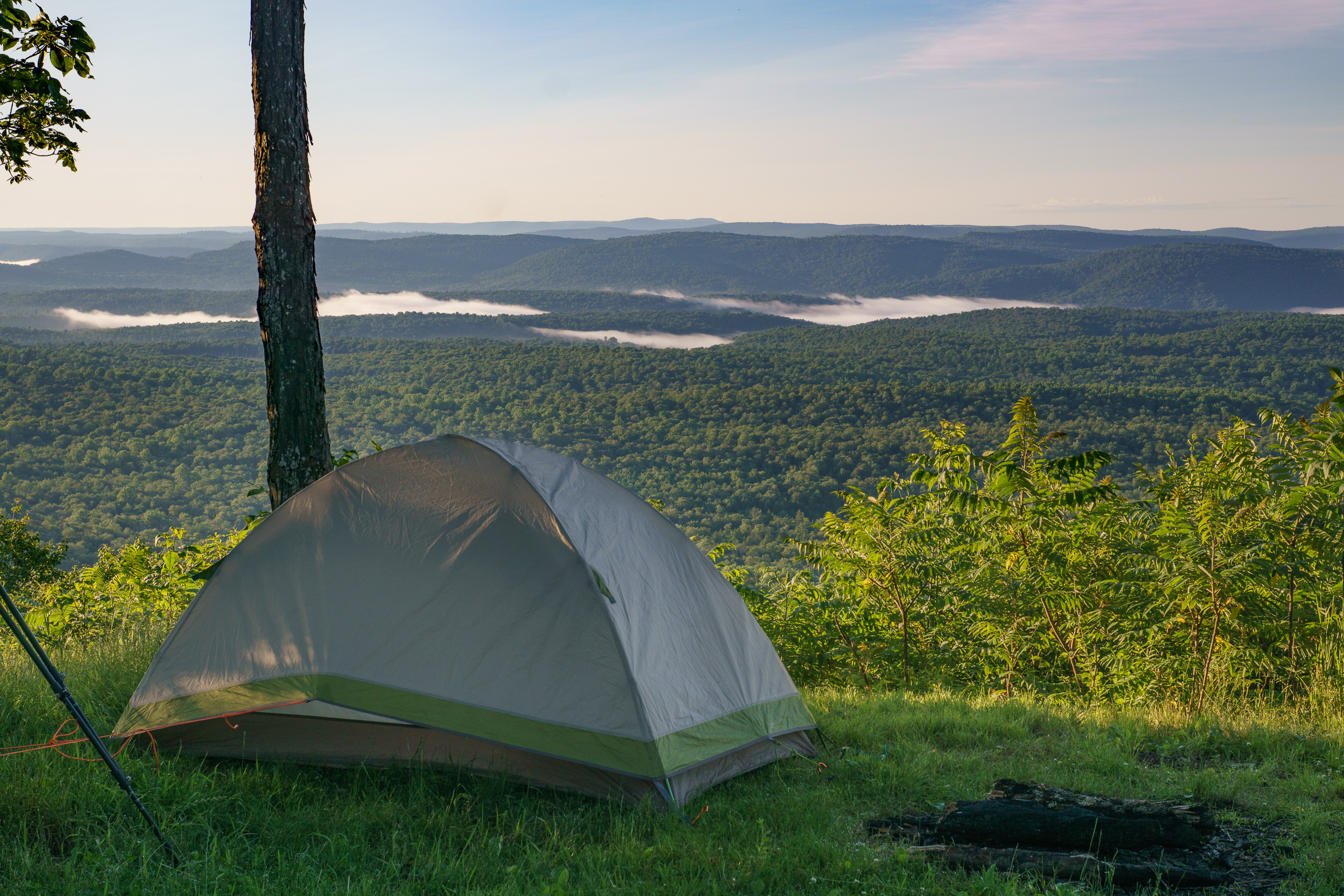 Set up base camp for your Endless Mountains adventure…
Camping options in the Endless Mountains vary greatly from primitive-style overnight stops along trails in our state forests and state parks and staying in campers at family campgrounds to booking a well-appointed cabin or lodge at a private or state-run site. All options afford backpackers and those who prefer to retain some of the comforts of home access to pristine waterways, trails, forests and unforgettable vistas.
Making the most of your stay in the Endless Mountains requires proper planning. Not only are cabins and camping sites in the state parks being booked well in advance, it's as important to know all of the rules and regulations of the venue as it is to know the amenities that might be available to you. Learning in advance if pets, campfires, or alcoholic beverages are permitted will help to ensure your enjoyment.
There are dozens of privately-owned family-style campgrounds in Bradford, Sullivan, Susquehanna and Wyoming counties, many of them listed on our interactive Heritage Map at: https://emheritage.org/heritage-map/.
Many have their own lakes or are situated along creeks and rivers. Privately-owned campgrounds often provide the biggest variety of recreation and activities, ranging from horseback riding and fishing to weekend entertainment and even wine tasting. Electrical and water hookups are often available at most venues on a first-call, first-reserved basis.
Bradford County is home to four unique county parks, three of which offer camping: Larnard-Hornbrook along the Susquehanna River in Sheshequin Township, Sunfish Pond on Barclay Mountain near Leroy Township, and Mt. Pisgah County Park, which abuts Mt. Pisgah State Park near Troy.
Mt. Pisgah State Park is easily accessible via State Route 6 and two miles of country roads through rolling farmlands. A dam on Mill Creek forms 75-acre Stephen Foster Lake. Susquehanna County is home to Salt Springs State Park, which features an old-growth hemlock forest estimated at more than 300 years old, as well as miles of walking trails along and above Fall Brook and its three waterfalls.
The smallest of the Endless Mountains four counties has the highest percentage of land dedicated to outdoor recreation and forest preservation, most of it managed by the Pennsylvania Department of Conservation and Natural Resources and the Pennsylvania Game Commission. "Rustic" is the keyword when camping in Sullivan County.
The largest family-friendly venue situated wholly within the county is Worlds End State Park near Forksville, which features world-renowned fly fishing along and swimming in the Loyalsock Creek. The park is adjacent to thousands of acres of state forests and game lands. Rules vary for each setting by season and permission to camp is almost always required via: www.dcnr.pa.gov and www.pgc.pa.gov.
Wyoming County has finally been granted its first state park! Since it is still in the process of getting set up, large groups can be accommodated at venues like Camp Lackawanna along the Susquehanna River near Tunkhannock. Managed by the Lackawanna Presbytery, Camp Lackawanna has cabins and a lodge to rent and offers special programs from spring to fall. Find more information at https://www.camplackawanna.org/.
A list of regional campgrounds as well as parks and trails that allow camping can be found in our newly released "Endless Mountains Outdoor Recreation Guide", done in partnership with the Endless Mountains Visitors Bureau, Bradford County Tourism Promotion Agency and our four counties.
Click here to get your copy of the Endless Mountains Outdoor Recreation Guide.